Sensors
AGTECH360 provides the farmer with a single platform to collect all sensor data within a central point for viewing and management purposes. Alarms are able to be set and monitor the sensors installed on your farm.
Weather;
Water Level;
Water Flow; and
Scales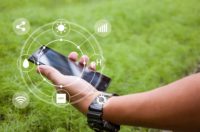 Sensors overview
Smart sensors are a part of the spider web of information available to the farmer which is critical to operational efficiency and even more crucial to understand operational costs. Being informed of a water trough, tank or water bore that is / is not working. Immediate actions can be undertaken to rectify identified issues which will increase operational efficiency while decreasing revenue loss.
Utilising the AGVIEW360 dashboard to visualise, analyse and control the many locations where your sensors are installed  will assist you to automate management of all your farm sensors from remote animal weighing, health status and improve low stock stress handling. Allocate and deploy resources more effectively, drive down running costs of vehicles due to visibility of the exact location of issues. In turn, creating a more profitable production margin and a higher effective resource management.
All sensors can be purchased individually or in a bundle with the AGVIEW360 farm management tool.
Weather Stations
The AGTECH360 Weather Stations provide a complete weather management system, allowing live updates of all aspects of the weather, and displayed on the AGVIEW360 centralised platform. Simply clicking the weather icon, you will be able to instantly see a snap shot of day by day or future weather events to plan activities.
Tempest Weather Station
The Tempest Weather System is weather monitoring system ideal for Smart Farms and Garden management.
Key Data Types:
Temp, Humidity, Dew Point, Feels Like, Heat Index
Barometric Pressure, Sea-Level Pressure, Trends
Lightning Detection and Alerts (up to 40 km)
Wind, UV, Solar Irradiance
Rain Rate, Accumulation, Rain Onset Alerts
10-Day Forecast
Historical Weather Data Graphs
Optimize your farming decisions with real-time and historical weather insights. Maximize productivity and crop health while ensuring safety and efficiency on your smart farm or garden. Experience data-driven agriculture with the Tempest Weather System today!
Ecowitt Wittboy WS90
The Ecowitt Wittboy Weather Station is a weather monitoring system ideal for Smart Farm management.
Key Features:
Accurate Temperature, Humidity, Wind Direction, and Speed Measurements
Light and UV Level Monitoring
Precise Rainfall Data
Seamless Transmission to Wittboy Wi-Fi Hub
Stay informed with real-time weather updates on your fingertips. The integrated sensor gathers essential weather data and transmits it effortlessly to the wittboy Wi-Fi hub for convenient monitoring and analysis. Experience reliable weather insights with the Ecowitt Wittboy Weather Station today!
AGTECH360 NBN-Iot Trough Water Sensors
Measure the volume or level of water in any water source
Set alarms and notification for levels too high or too low
Future upgrades, will give you Integration with water valves and the through the AGTECH360 farm management tool, allowing you to remotely access the data and control or divert water flow accordingly with the valves; and
See all information displayed on the AGTECH360 Dashboard.
AGTECH360 LoRa Water Sensor
Measure the volume or level of water in any water source
Set alarms and notification for levels too high or too low
Future upgrades, will give you Integration with water valves and the through the AGTECH360 farm management tool, allowing you to remotely access the data and control or divert water flow accordingly with the valves; and
See all information displayed on the AGTECH360 Dashboard.
Runs on the AGTECH360 LoRA network